by Christa
(Athens, GA)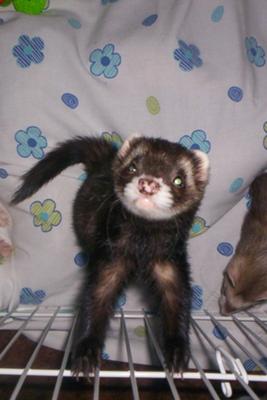 Can he beg or what??
Pooh was a large, dark boy who totally stole my daughter's heart. He was the love of her life.
As ferrets usually do, he was diagnosed adrenal at three years old. It was right side and invasive so surgery was not an option.
Pooh was such a brave little boy & gave much love and joy to his family. He was helped to the Bridge in August of 2006.
It's been two years now but seems like only yesterday we held you in our arms, Pooh. You really taught your Mommy a lot of things & she will never forget you. Look for us in the reflecting pool & let us know you're still looking out for us.
See you soon, our angel…..
Nanny, Poppy, Mommy,& your fur brothers/sisters
Comments for Pooh 2/2001-8/2006
Jan 22, 2009
Pooh
by: Anonymous
I'm sorry about you losing Pooh. He was a handsome guy and reminds me of my 1st boy, Rory, who also was really dark. He's playing with Blaise, waiting for you at the bridge.
---