by Daniel
(Chicago Ill USA)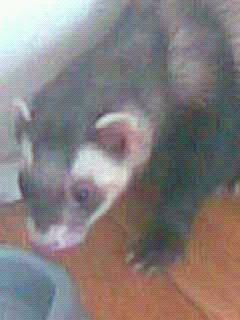 Pooties was my first ferret. When we locked eyes he had me, my soul. There was happiness again in my life. And when I had to put him to sleep 'cause he was so sick & depressed because he lost his partner, Ruby Tuesday, I cried like a baby and still do at times.
Pooties – Dad never meant too hurt you, only didn't want you to suffer any more pain. I`ll always Love you. Papa
Then there is Ruby Tuesday, Pooties' sister. She I rescued from a women who abused her. She was sick, losing her hair, left alone for weeks at a time & blind. She was the first to go. Although she could not see when I took her to be out of pain, she sat with me while I talked and cried for about a half hour. But even though she could not see, she looked back at me when I handed her over as to say "Papa, where am I going?" Again I cried.
I Love & miss you walking over my face at night when you would get out of bed to go pee!!! 🙂
Oh, then my pal, Spicy's brother, Bandito. I watched as you stopped eating and the Vet told me to make my peace with you 'cause you were going to leave soon for the Rainbow Bridge. That crushed my heart. You & Spicy stole my heart in the shelter (GCFA).
We love & miss you each and every day. Till we meet again. I Love All of you so very much… 🙁