by Shi
(California)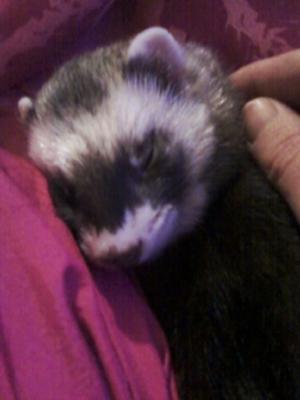 Nothin' better than napping on my human staff member's leg
Rikki came to us at the age of 2 months old. She was not properly fed, socialized nor allowed freedom to play and do as she wished, which we all know that is what they love to do.
Now after having been owned by "her" for 5 months, she has become queen bee of the house. She loves to chase us and play hide and go seek with our grand daughter. Rikki is also a cheater (just don't tell her that we know she cheats), she uses the wall heater as a short cut into the hallway from the living room to catch us – lol.
Our Mini Dobie and her have become fast friends on a mission to redecorate my house with their romping about. And Rikki loves getting up on our grand daughter's bed to look out the window into the back yard to tease the dogs as if saying "Haha – you can't come in because you're dogs and this is ferret land!" lol.
She has trained us to go looking for our house slippers, shoes and even cell phones prior to getting a cup of hot tea or coffee in the morning. She is not a thief, she merely is bored during the night and redecorates. lol.
She suffers from short man syndrome and bosses everyone around until they have submitted to her authority, but loves all animals big or small as she does deem them as play things for "her" amusement – lol.
We do not own her, we are merely her staff, placed for her food dispensing,as well as a living toy, and she does hold her supervisory position very well. This she shows when I clean out her cage and she watches sternly at what I am doing and if I remove something she does not want removed she will jump into her cage, take it out of my hand and place it back where "she" wants it! Lol.
She is also a very good alarm clock, with a sweet touch, if I am still in bed by 5:30am she will get in my bed and lick my face until I am awake, then she starts jumping all over the bed like "Mom's awake … woohoo … mom's awake!"
Her fav treat is a tablespoon of Gerber turkey baby food. She will follow you around until you have placed it at her feet. But beware opening a jar of peanut butter, she will do back flips trying to get at it. Never leave a peanut butter sandwich unattended on a coffee table or end table, they will assume that you had placed it there for them and it will be gone – lol.
I hope everyone enjoys their fuzzies because they are the most amazing owners I have ever had – lol!
Shi
Comments for Rikki
Jun 06, 2009
Rikki


Oh Yes !! We are owned. You've got to Love 'em. Thanks so much for sharing your Rikki with us. She's a cutie alright.
JC
---