by dani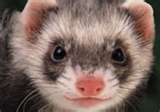 i have a ferret – his name is Rocko and he goes in bags and steals money!
He's 2 years old. I had him for a long time and he likes cats 🙂
Comments for rocko
Aug 07, 2009
Rocko


Love his smile. He takes money, does he take any thing else??? LOL I could use a few hundred. (Only kidding.)

He's a cutie. God that smile cracked me up. Just picturing him smiling after lifting someone's money I bet.

What do the cats think of him?????
---
Aug 07, 2009
What a beautiful boy!


That is a fantastic photo – what a great smile!!
Must be a happy ferret!
---