by Rose Msb
(Boca Raton, FL, USA)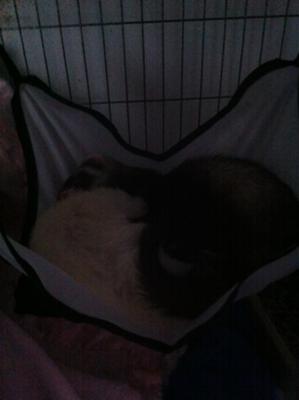 Her last goodbye to her bffl Snowflake
Message we sent the ferret shelter about Sammy's passing:
We adopted two 3 year old ferrets from your shelter. The first little carpet shark was an Albino we named Coral Snowflake. The second little sable rascal we named Sammy. When we brought them home, we knew they were going to be our best friends for the rest of their lives, and indeed they were.
Three years later, now being 6 years old, Sammy developed multiple health problems. She had been sick for a few days, and we were advised by the vet to feed her the duck soup and ferretone until her appointment.
Well…we checked up on her before bedtime, as we usually do, and we realized that she passed away in her sleep.
The whole family is grieving her passing, but no one is as hurt as Sammy's best friends Irv and Snowflake. At the moment, we are arranging for her to be cremated so we can keep her with us forever.
Right now my brother Irv's heart is shattered into a million pieces, and he is not the same person any more – he has been crying nonstop, and I am shocked at how fast she changed from being ok to passing away.
RIP little Sammy. You are going to be missed dearly.
ps: Irv wanted me to let you know that you'll always be his little girl and that he will always love you no matter what happens, and no matter where you are. He will see you again someday. RIP sweetie.
~~~~~~~~~~~~~~~~~~~~~~~~~~~~~~~~~~~~~~
My brother's heart has been shattered by her passing away….tbh, he hasn't been himself…he's more depressed than we've ever seen him before. Irv (my brother) wasn't the only one in a depression due to her passing…her best friend for life Coral Snowflake is also very withdrawn. After getting checked by her dr (since I thought she was sick or something), we were told that she might be in a depression as well since she lost her best friend and cage mate….this little fuzzy changed our lives forever, and we will miss her for the rest of our lives