by Christa
(Athens, GA)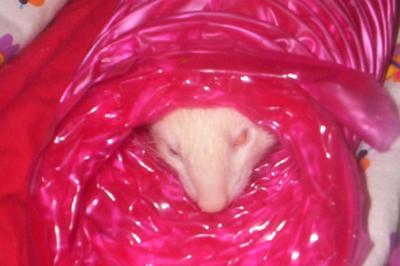 Sno peeking from a tube
Sno was a petite albino girl given to us at nine months of age from a pet store due to biting issues.
Yea, she WAS a biter. With a lot of patience and love she turned into a sweet, sweet girl with an attitude.
Sno lost her battle with a malignant tumor and we had to help her to the Bridge.
Sno, we love and miss you more than words can say. Fly free with your pretty wings….
We'll see you when life is finished…..
Mommy, Daddy, Sissy, & your brothers & sisters
Comments for Sno 1998 – 6/20/2005
Aug 22, 2008
Sno
by: JC
So So Sorry !!! It saddens me every time I read of a lost life. I too have taken in 3 ferrets Fluffy my 1st, then Bandie & Zoie. I have two I had bought myself — Trouble Bubble (who lives up to her name) & BoBo (who's just that a big Boob). I love each one of them so much. Each one has a very special way of getting into your heart. Losing Fluffy & Bandie hurt so much. But every time I hear of someone like yourself & your loss I look at mine & tell them each how much I love them. You know I think they really understand it. Scary, but warming none the less. Hope you find yourself with another sweet baby who needs your love & one to give you love.
Love JC
---