by Alice
(Arizona)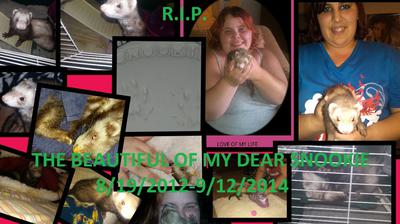 The beautiful life of my sweet girl!
Two years ago when I went to go pick out my new friend, there were like five crazy, high-spirited to choose from. They were all playing around and jumping on one another, all but one.
I was giggling and watching the other play then I saw the one just relaxing under one of the igloos in the cage and she looked at me. In that moment when we made eye contact I just new she was the one for me. And when I held her for the first time she licked my cheek and nose and I just had an overwhelming feeling of happiness and joy.
She was very sweet and loving, playful and funny. She was always doing something to make you laugh whether it was jumping around crazy or trying to pounce and nip at your feet as you walked. She was my best friend, my baby girl.
Sadly she got sick a couple weeks ago, and I did everything I could to try to make her better. However this morning me and the vet decided that it would be best to put her to sleep. It was probably the hardest thing I ever had to do. I was holding her as the vet was getting ready and she nudged my finger and licked it right before she passed and this tore me apart but gave me the feeling that she understood what was happening. And if she could talk I imagined her saying "Thank you mom, it's ok, I'm going to be ok." I will keep her memory in my heart forever!
R.I.P Snookie
8/19/2012-9/12/2014