by Michael and Trish
(Boca Raton, FL and Philadelphia, PA)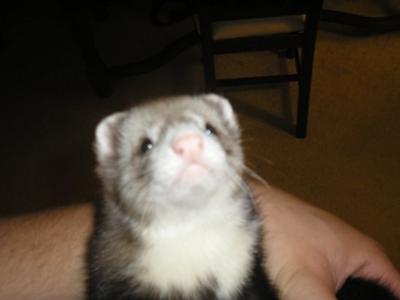 Sweet little Spank Spank selected my girlfreind and I immediately. He was so excited to have adopted us, he nipped my girlfreind right on the chin. Immediate and unconditional love. Spanky could always be found cuddled up with or following his bigger brother Petey around.
After the first day, Spanky never nipped either of us, but decided to shower us with his woobie kisses whenever we were near. He was always sure to put his toys away whenever mommy or daddy would take them out and put them in the middle of the floor. Each one would be meticulously dragged back to its rightful place, either behind the couch, under the armoire or under the coffee table. The best part was his big fuzzy squeaky tubular dogs that were three times his size. Spanky's parents used to love watching him drag them back, but he probably got annoyed with us for constantly taking them out so he would have to put them away. Our favorite trait, however, was the way he went poopy in his litter box. Spanky would back into the corner of the litter box and then stretch his neck and head straight up to the sky like a sun salutation. It was so adorable, I have never had a ferret that even made me laugh when he went to relieve himself. LOL
When Spanky was about a year old, he became very lethargic and diminished alertness. Mommy and Daddy rushed him to the vet where Dr. Grant nursed him back so he could return to us. After his initial scare, Spanky was normal for another 6 or more months before Daddy found him in an almost comatose state. Drs. Grant and Kelleher worked for almost a week before he became alert again, but this time the news was grim. Spanky had a very aggressive Leukemia that was killing him. He wasn't even a year and a half old. His mommy and Daddy and brother were so scared, but Spanky was brave.
After mommy and daddy discussed treatment options with his Drs., we decided that Spanky deserved every chance to live. We were concerned that his treatment would be painful and that we were being selfish, so we promised ourselves that if he appeared to be suffering from it, we would discontinue. So we went ahead and started Spanky on chemotherapy. After his first two sessions his blood work was showing improvement. The brave little boy took his medicine without complaint every day and boy did he LOVE the Carnivore Care we fed him.
After dropping him off for his third treatment, we were hopeful. When Dr. Grant called to give us the daily update, our world ended. Spanky had not survived his third round of chemo. June 30th, Spanky departed us to go play with the canines Willie, Norm, Major, and ferrets Charlie, Charlie, Charlotte, Nicholas, Max, Tabitha, Claude, Samantha, and Joey. It is heartwrenching! Spanky was such the sweet little boy, only caring that he got to kiss him mommy and daddy, sleep on our chests while we watched TV or read a book and cuddle with his brother. I have lost some of my woobies in the past and it always hurts and still does. Spanky was a momma's boy and my girlfriend has taken his passing very hard. Especially because he was only a little baby. We miss you every day Spank Spank!!