by Jillian
(Culver city, California)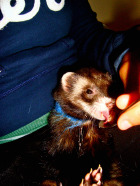 my baby
Spaz was my pride and joy. He was adorable, loving and a spaz. Perfecty trained. He slept with me and would play with me.
I miss the way when I would walk up to his cage, he would yawn and stretch then go to the cage door to be let out. I miss his little running bounce and how he was incredibly intelligent. I will miss him crawling under the door while I was showering and have him jump into the tub.
My little baby, I will miss everything about you. Why did u have to leave? He left behind his brother and me.
He died just before his second birthday. He got sick, and one day to the next he had stopped eating and drinking water. I took him to the vet and the next day I woke up to find him completetly limp, staring at the ceiling and drooling.
I will never know what took my baby away. I remember just holding him, begging, screaming and crying for him to please wake up. My heart broke into a million pieces when I lost him. It's been a few days now and I cannot stop crying.
I'm crying as I write this. My heart feels heavy. Baby Spaz, I love you.