by Amanda
(New Mexico)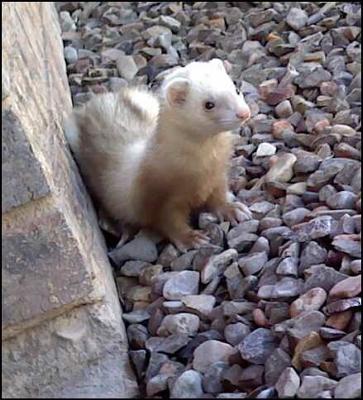 Stitches before he got sick.
Stitches was wonderful from day one. As a couple me and my boyfriend felt something was missing in our lives. A pet. Originally we wanted something different but when we met Stitches we fell in love. We held many out of a litter of ferrets but Stitches convinced us to buy him. He clung to my shoulder and immediately started giving me kisses. We had to take him home.
After getting him in the car his real temperament came out. He was bouncing all over the place! When we got him home we thought he hated us because he was doing his "war dance" and dooking like crazy! Being inexperienced ferret owners we were so confused! We should have listened to the shop keeper and let him adapt to his surroundings but instead we immediately tried to play with him and the little sucker bit the mess out of me! Hence the name Stitches.
Stitches became a huge part of our lives. I read countless articles on ferrets too to become a better owner. We even adopted our 2nd ferret when he turned 1. Her name was Mury and we rescued her from a neglectful family. They became best friends…
Stitches and Mury traveled with us and we played with them daily. We even bought them a HUGE cage that they enjoyed for all the romping room (even though they still were let out daily)
Stitches died about 20 minutes before I wrote this. He had fallen ill to a severe anemia. The blood test showed he was 20%. The cause is still unknown since the vet wanted him to get stronger before beginning any tests. After prescribing him Hill's a/d and a liquid diet we immediately got to work on trying to save him. We force fed him his a/d and water and talked to him all the time. I even read bible versus like Noah's Ark to him. Although we gave him a 110% effort wise, it wasn't enough.
Suddenly at 3 am I felt the urge to go tell Stitches how much he meant to us. While treating him he got to stay out of the cage for 3 days and instead lived very comfortably in my dresser. I went to see him and woke him up. He appeared to be very awake already though. I told him that we loved him very much and would hate to part with him. Even if he parted though, I said we would meet again and then we could never be separated. I told him to never forget us and we'd always pray for him. I also said that if he passed we'd rescue a ferret in his honor from a shelter. This could NEVER replace him though. Right when I finished talking, Stitches took his last breath and crossed the rainbow bridge.
He had plenty of support before his death. Many people prayed for him and would visit him to reassure him and show they cared.
I was raised in the farm life and I've lost many animals. This was by far the hardest.
We already put him in his coffin with his favorite toy he's had since he was a baby, a letter, and a rose. We will burying him on the mountain tomorrow. 11/05/10
Rest in peace Stitches, you were only 2 years old and so young. We hoped you enjoyed life with us for we tried to spoil you in every way. We will forever miss you and keep you in our thoughts and hearts.