by Adam
(Maple Wisconsin)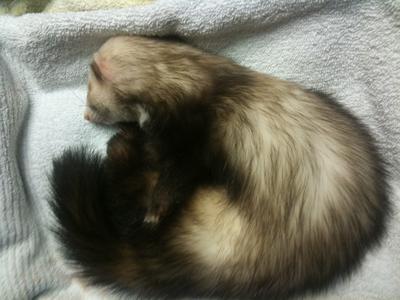 ?-08/06/13
Sugar was our first ferret, my girlfriend had rescued her from a neglectful home where she was living in a tiny wire rabbit cage with no bedding in her own filth. When we got her she was on the brink of death, she was malnourished from eating cheap dog food, had a urinary tract infection and a partial bowel obstruction – we spent our first day as ferret owners frantically calling vets and animal hospitals trying to find someone who treated ferrets. We finally found one and proceeded to spend the next few weeks syringing medicine into her and nursing her back to health.
After those shaky first couple weeks she began to feel better, we converted an old parrot cage into a huge 3 story ferret condo and she was delighted to have a home of her own full of fuzzy towels and hammocks and toys. It wasn't long before she had run of the whole house, we had little hidey-holes placed for her everywhere, and it was hilarious how she would grab her toys and trot away with such confidence to go stash them, and to see a 1/2 pound ferret chase away a 30 pound dog (dog was terrified of her). She wasn't the most energetic (we assumed she was older) but she was always ready to play, when I was home she would follow me everywhere and hug my foot as if to say thank you. She would sleep in the bed with us and liked to pass out in my lap when I was on my laptop.
Well, a few months into owning her she began to go into heat, so we called the vet back and scheduled her to get fixed. We dropped her off at the vet early in the morning and made the trip back home waiting for them to call us back to come pick her up, we were actually excited because we have always seen tons of youtube videos of cats and dogs coming back from the vet and we were planning on being one of the first to post one of a ferret. We got a call a few hours later and I could tell immediatley from the tone of the vets voice that things were not right, Sugar had a reaction to the anesthesia, and they could not get her heart to start up again.
I have lost pets before, I have buried dogs and cats and flushed fish and have always been able to keep my composure. I guess this little fuzzy found a soft spot in my heart, the moment I walked into our room and looked over at her cage I choked up and tears began streaming down my face. She brought such joy to us, and although her last few months may have been great I feel it is not fair. I buried Sugar on the edge of our property with her favorite toys and treats and planted a bleeding heart plant at the head of grave.
Rest in peace little one.