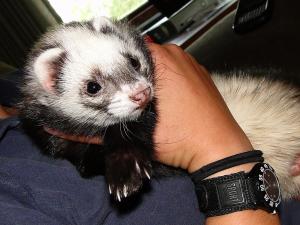 The soon to be Bartleby
I don't have any ferrets but my dad had 4 when he was a kid. His favorite one got killed by his brother's friend. The ferret (Freddy) was relaxing on the inside of a recliner when my uncle's friend pulled up the recliner and streched Freddy out too much and killed him. My dad is gonna let me get a ferret in a few months and I have good advice thanks to these blogs and my dad. Also 5 cute names for a ferret : Bartleby, Rigby, Fuzzbutt, SweetPea and Jacky. I'm gonna name my ferret Bartleby.
Thanks and hope you enjoyed.
Comments for Tips for Ferrets
Jul 19, 2011
Bartleby


So sorry to hear about Freddy :{ Those recliners really are so dangerous with ferrets in the house – I'd never have one in our house with our free roam ferrets!

I think Bartleby is a great name for your ferret! Hope you'll let us know once you get him 😉
---