by Lissy
(Perth, Australia)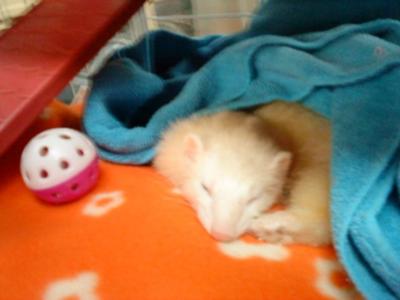 Sleepy Lilah
Howdy ferret lovers 😀
Just a quick word on something I've discovered on toys. Until just recently my babies, Hearspark & Delilah, mostly played with small cat and dog toys, some would interest them, and some wouldn't. They don't really seem too interested in balls and bells, they love things they can tear apart, things they can chase (like wind up cars) and balloons (but those are huge no-no's)!
Heartspark loves anything he can pick up in his mouth and run off with, his absolute favorite thing being my little sister's hairbrush! Delilah loves things she can roll around, such as large beach balls (*sigh – of course she'd pick the most absurd play thing!).
Anyway, last week I was at the markets down here in Wanneroo (WA) and I found a place that sold secondhand toys. They had a huge basket of baby toys going for between 50 cents and 2 dollars each. I got a whole heap of small toys, a few soft toys, some of those rings with dangly bits on them, and some hanging toys and rattles.
They're all very hardy (they have to be safe for the babies after all!), they're bright colours, and best of all (at least in my ferrets eyes) they all make different noises 😛 Some of them crinkle,some clank, some squeak, they think it's fantastic! There are lots of good cat and dog toys out there too 🙂 but you'll definitely save yourself some money if you grab some secondhand baby toys from an opshop or garage sale.
Comments for .:([Toys!]):.
Jun 16, 2009
Toys


Lol 😛 ok, maybe i should have specified. When there's nothing good to destroy, baby toys are good. My two would prefer to destroy things rather than playing with the wonderful toys i so lovingly buy them as well!

I work at a veterinary clinic and i brought Sparks and Lilah with me today, and they were just running around out the back as there was nothing much happening. I'd spread out a bunch of their toys over the floor for them to play with, yet when i turned around, they were fighting over the breathing bag off the anaesthetic machine! I'm still not sure how they managed to get it down, lol.
---
Jun 16, 2009
Toys


You are so lucky that your ferrets enjoy playing with toys.

I bought a big pile of safe toys for my guy but he ignores all of them and just enjoys digging out the insoles of our shoes and hiding them under the couch.

I think I'm going to have to put those toys on ebay so some other lucky ferret can have them, LOL!
---