by The Glitch
(Canada)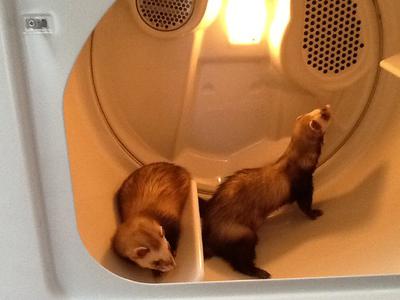 We were at a SCA event (medieval recreation) and a lady showed up at our camp with two ferrets. She just disappeared that night into a tavern and so we spent the evening carrying these two ferrets around and actually enjoying it. Fast forward several years and we have a house finally and our next big purchase were these two ferret brothers.
I had read up on ferrets beforehand but nothing compares to having them run around for the first time.
They destroyed our house plant, started digging at the carpet and thought carpet was a great litter box. Now they are a year old and the apple of our eyes. Pretty much accident free (90%), a bunch better about the digging and forever begging for treats.
They have enriched our lives with their tiny selves and they sure wiggle into your heart.
Comments for Tyr and Riggs, the amazing duo
Feb 20, 2014
Your dynamic duo

by: Anonymous

Your post was great and I am so glad to hear that your two gorgeous little babies have already wriggled themselves into your hearts 😀

They are wonderful little creatures but are maligned and not understood by so many people! I'm glad you weren't in that group 🙂

They can cause a lot of grey hairs to sprout if they go missing or if they get sick but *hopefully*, by being paranoid, you'll be able to miss those occasions, especially if you have a good ferret vet nearby!

Loved the pictures – thanks for posting them!

Hugs to your little babies from their new buddies down under 😀

~Nona