by Jacque carlyle
(Olean, NY. USA)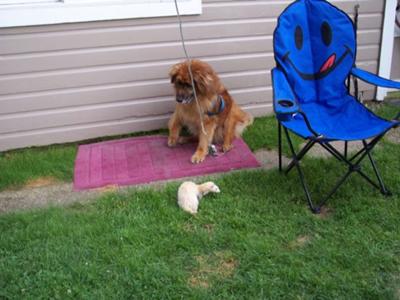 Oh No!!! Not another one!!!! Somebody help!
LOLFerret
Comments for Zoie & Thomas the Dog
Aug 18, 2009
Zoie & Thomas the Dog
by: JC

Zoie's the only ferret that Poor old Thomas will let get near him. Thomas is not mean in any way toward the ferrets, He runs from them. Big Baby!!! LOL I call them the old lady & old man, they are a odd couple.
---
Aug 18, 2009
The Ferret
by: Anonymous

I love this picture of the Dog and the Ferret. How cute. Ferrets are lots of fun.
~April LeRoy~
---