by Jacque Carlyle
(Olean,NY.USA)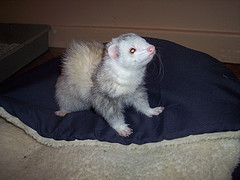 Zoie was heaven sent I love you & miss you
Zoie fought for a very long time to stay here with me. She was one of the sweetest babies on earth & I know in heaven she's just as sweet & trusting as she was here.
I miss you Zoie & I miss your kisses, You & Bandie are soul mates again & Fluffy & Icey are your family. Mommy will never forget any of you, so have fun Zoie & give all your new friends & your sisters & brothers a kiss from mommy.
Till we all meet again.
Comments for Zoie
Mar 01, 2008
Sad to hear :'(
by: Nona
I am so sorry to hear about Zoie, JC. She knew you did everything to keep her with you and she fought to stay but unfortunately it was not to be.
She'll be waiting for you at the Bridge and will give you her special kisses when she sees you again!
---