by Jacque Carlyle
(Olean, NY. USA)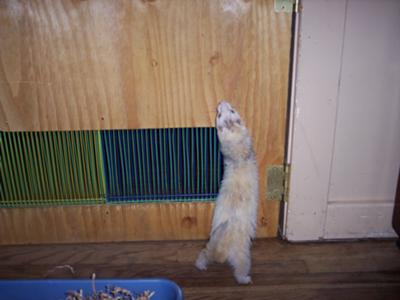 I'm down here, you Nitwit!! Look down!!!!
LOLFerret
Comments for Zoie
Apr 08, 2009
Zoie
by: JC

Nona that's a nice thought. Yes I do think they are related. Your Seams reminds me of Trouble Bubble & Angus reminds me alot of BoBo. I think Kahlua Is between them all. Like my Icey & Fluffy. I do love these guys. Wish I could afford more & were able to stay at home with them. Maybe after I retirer I can.I just love this LOLferret site you started, so glad you did. Gives me a chance to show off my kids & the funny things they do. Thanks.

Hugs to your gang from Mine.
---
Apr 08, 2009
Zoie
by: Nona

JC – that photo of Zoie reminds me of the picture of Muis that I put on my site … "scratch scratch scratch – let me outta here!!"

Love it!!! 😀

I reckon our ferrets are sisters, even though we're separated by a million miles of water 🙂
---