[wp_ad_camp_1]
Blockages in ferrets can be lethal.
As I have already said, do not have any objects lying around the house which your ferret can chew on – no soft rubber or plastic objects or sponges and no foam rubber items.  A foam rubber pad from ear plugs is one of the worst things if swallowed because if a vet suspects a blockage, it won't show up in an X-ray so it could cause more problems by delaying the prognosis.
Read this heart wrenching article about an owner who thought she was doing a good thing for her babies but it ended up killing one of her ferrets :'(
It's also not rubber or foam that ferrets love to chew on. Read about our Snoopy and that olive pit she swallowed!! I still can't imagine what she found attractive about putting a dry old olive pit into her mouth 🙁
---
"Except the vine, there is no plant which bears a fruit of as great importance as the olive." — Pliny[wp_ad_camp_2]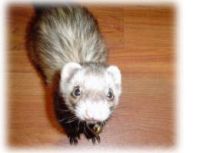 I absolutely love olives and would agree wholeheartedly with Pliny. In fact, my love for olives, especially those large green ones with great big pits, was the reason for Snoopy's visit to the vet!
Of all the many ferrets we have had over the years, not ONE ever showed any interest in an olive, let alone a dried, discarded olive pit! But, as I am sure you are beginning to see – with ferrets, there is ALWAYS a first time

I had been working on the computer and eating olives. Not having any reason to think otherwise, I threw the pits into the rubbish bin by the side of the desk.
Unbeknownst to us, Snoopy decided to get into the rubbish bin during the night and had swallowed a pit. Of course it was not just any old pit, but a great big one!!
She did it just after getting the stitches out from being spayed so she kinda tricked the vet into thinking it was connected to that procedure.
There was a new vet at the surgery I take my ferrets to and he wasn't familiar with ferrets at all. I suggested that it might be a blockage, but he thought that he was gastro which was connected to her recent surgery.
He gave me some antibiotics for her and a packet of electrolytes to make sure she didn't dehydrate. As with most ferret dramas, it was a Friday afternoon and I went back home feeling a little unsure of the diagnosis.
By the Sunday she was really, really sick so we took her to the 24-hour vet and I voiced my concerns about a blockage.
The duty vet felt her stomach and – lo and behold – actually could feel something which she thought was, indeed, a blockage. They X-rayed Snoopy and came back to show us this whacking great object which was stopping up her guts.
The vet had to call the specialist surgeon into the surgery to do the operation! Fortunately it all went well but she had to stay in hospital for 5 days, because they wanted to make sure there were no complications, as the build-up of noxious gasses in her stomach during the blockage had been cause for concern.
Still, she was released and returned home as good as new, thank goodness!
---
It just goes to show that different ferrets have different habits, so never get complacent.
Here's a picture of an olive pit – look and be amazed that something so small can cause such so much trouble in a ferret's gut!

You can see
Snoopy's
X-rays here, showing a very distended stomach caused by the build up of gas when the olive pit blocked her gut!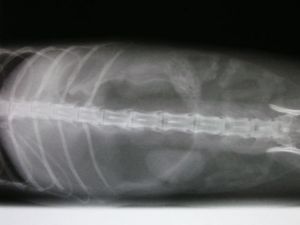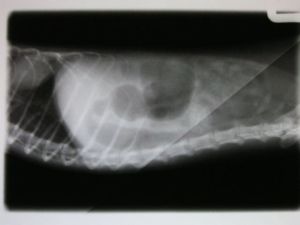 ---
Blockages can be caused by a number of things, some of which are:
Foam rubber from ear plugs, etc
Rubber from erasers, etc
PVC – chewed off soft toys, etc
Balloons
Material from T-shirts, etc
Styrofoam peanuts
Hairballs
Olives and other small stone fruit
My old gang of ferrets didn't seem to have any interest in rubbery things, thank goodness, but they are like magnets to my present crew 😮
Kimiko loves to chew the little plastic nose pads on our glasses, as you can see from this photo…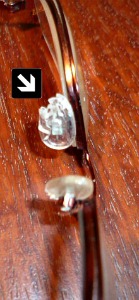 I doubt that the little piece she bit off my nose pad but one of the pads from my husband's glasses is missing.  Did Kimiko swallow that or did it get vacuumed up? Just to be safe, I gave her some hairball laxative to encourage a good bowel movement

Pens, especially those with a rubber grip, can be very dangerous, as you can see from this picture ….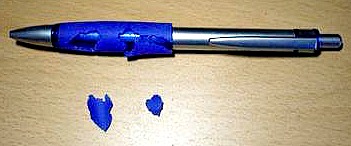 And we've all heard about ferrets stealing the remote! Stealing it is fine, as long as you find it again, however do take care that the buttons aren't missing when you find the remote – LOL!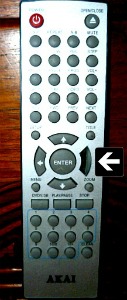 I had to pull out the hairball laxative again when I saw the right arrow was missing.  There was no evidence in the litter tray to show that Kimiko swallowed it so I'm hoping it got sucked up in the vacuum cleaner.  I was so hoping I'd fine it so we could use the remote properly but, alas, to no avail ?
And the rubber keyboard that Philip just carelessly put on a low shelf in the study … look at what they did to that ?
I think an angel was looking after my ferrets as despite not being able to find all the missing keys, none of my guys showed any symptoms of a blockage!  Phew!
Keep an eye out for some of the following symptoms if you suspect your ferret has a blockage:
Skinny poop
Greenish poop
Lethargy
Vomiting
Lack of appetite
No bowel movement
Distended stomach
Teeth grinding
Dehydration
You can download a pdf about blockages here.
Take your ferret to the vet immediately, if you suspect anything wrong because if you wait, it might be too late.
---
[wp_ad_camp_3]
You can read more on Blockages in Ferrets on these sites …

Gastrointestinal Obstruction in Ferrets (Pet Care Veterinary Hospital)

Ferret Foreign Bodies (Unusual Pet Vets)

How to Deal with Gastrointestinal Obstruction in Ferrets Co-authored by Deanne Pawlisch, CVT (Wikihow)

Blockages by Katt Crouch (Holistic Ferret Forum)

Hair Balls and Foreign Objects in Ferrets by David Perpiñán (The Veterinary Expert)

Gastrointestinal Disease in Ferrets (Pet Care Veterinary Hospital)
I've been told by several ferret owners that if you think your ferret has hairballs or has swallowed something like a balloon, you should give it pure canned pumpkin.  You can read more about that on THIS PAGE.
(Last updated November 2019)
---
DISCLAIMER: The information contained on this page is not meant to replace seeing a veterinarian if you think your ferret is ill. It's only meant to supply general information on a particular illness which was obtained either from personal experience with my sick ferrets, or from books and/or the Internet.
---