by Pat Ceriello (owner of 8 ferrets)
Insulinoma is a tumor or tumors in the pancreas which stimulate the production of insulin causing low blood sugar levels.
There are two types of Insulinoma. The first is the most common and consist of tumor or tumors. The second is a rare form called Diffuse Insulinoma, which means the tumors are microscopic and cannot be removed without removing part of the pancreas.
Ferrets diagnosed with Insulinoma can live for a month or they could live the rest of their natural life. How long they live depends on the care provided.
Diffuse Insulinoma is a very aggressive and hard-to-manage form of the disease. Ferrets with this will be lucky to get an additional year of life. For this guide, the care provided is for my ferret, Bandit, who has this particular form of Insulinoma and who was diagnosed a year and half ago.
The protocol was developed with a lot of trial and error, and a lot of guidance from Dr. Desena, my vet.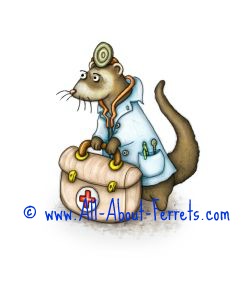 First we will start with surgery…
Surgery must be the first resort not the last. With surgery the ferret could go a year or more with no medications before symptoms start to show again.
Keep in mind most ferrets are good candidates, regardless of age. What matters more is the health of the ferret. A 7-year old ferret in otherwise good health is just as likely to have a successful surgery as a 3-year old ferret in equal health. Surgery should be done shortly after diagnosis but not until acceptable blood sugar (b/s) levels have been reached. Sadly, in the US ferrets have been diagnosed as early as 3 years of age, as Bandit was.
Initial treatment usually begins with Prednisone (Pred). The amount and frequency of the dose will be determined by your vet. This is done by frequent b/s tests and adjustments until a reasonable b/s level is reached.
At this point proper feeding becomes critical for the ferret living as symptom-free as possible. Relying on the ferret alone to eat properly is not enough. Their meal of dry kibble should be supplemented with another soft meal high in protein.
There are many soft kitten and ferret foods out there. I have found the best to use is "Beechnut Stage 1" meat only baby food. I have had 8 ferrets and they all have readily accepted this; and it's also easy to use for force feeding if necessary. Sometimes you will have to rub some on their lips to get them to try it; sometimes you'll have to do that multiple times.
Prednisone should be given at the time the ferret is typically active, so if ferret usually starts playing at 6 pm then give dose of Pred at 5:30 pm, followed by a feeding of baby food. Feeding the supplement food should be at least 3 times a day, 5 times if your schedule allows.
Feeding amounts will have to be adjusted to maintain a healthy weight. Bandit gets between ½ – 1 teaspoon 4 times a day. Weight monitoring will become important but a kitchen scale is inexpensive. What the supplemental feedings do is help stabilize the b/s level. Although the baby food has no sugar, the body breaks down the protein into sugar.
It is important to not give a ferret with Insulinoma anything with sugar.
If you do, the pancreas immediately tries to counteract this and, because of the tumors, will release too much insulin.
The natural breakdown of protein into sugar is the best thing. Routine is critical with medicating and feeding. If you give meds and food at 6, be sure to do it as closely to that time every day, as well as trying to split the feedings as equally as possible.
After a while the Pred will stop controlling the Insulinoma. The next thing is going to be Diazoxide, which is an insulin blocker. When Bandit started this, I mixed it with "Rebound" liquid diet. "Rebound" is a pet milk that is great for mixing meds. There are other kitten milks you could use but some kind of milk from the vet would be best. They have all the vitamins that the ferret needs. Again with Diazoxide, give it just before your ferret's most active time. Pred will still be used as well.
There are also natural supplements that you could use, such as Transfer Factor Plus and fish oil. I give the whole crew fish oil at night as treat and they all love it.
So the basics are small frequent feedings.
Now what to do in case of an Insulinoma episode?
Some key things to watch for are: weakness, pawing at mouth, drooling, and unusual behavior. By unusual, I mean a usually non-cuddly ferret becomes very affectionate. This is what Bandit sometimes does before an episode. These are the most common signs that an episode is going to occur.
Karo syrup should be kept on hand but only used as a last resort. Most episodes can be stopped by doing 2 simple things. Keep the ferret calm, don't let them try to walk and freak out. When these episodes happen, they don't know what's happening and tend to run around freaking out, making matters worse.
Immediately, but calmly, get a spoonful of food and offer it. Sometimes it will take a minute or two for them to start eating. If they don't want the food, offer the pet milk. Be patient but firm by keeping the food near their face and even touching their lips to the food, so they taste it.
Many times during an episode you'll find that they have to poop. Help them to the litter box, holding them if you have to.
Continue to keep the ferret calm and offering food until they eat. Usually shortly after eating the episode will subside and the exhausted ferret will fall asleep.
Be prepared as an episode is usually followed by more, sometimes more severe over 24 hours before there is a break. Proper feeding and handling should see them through this.
As the last resort, and I mean the VERY last resort, there is the Karo syrup. This is very dangerous for the ferret. The Karo gives an almost instant spike in sugar. But what goes up must come down, and if it comes down fast and hard, it could result in coma, seizure or death if not done properly. This is why food should be used first as the body slowly and naturally produces the sugar.
With Karo you get the instant boost but the pancreas immediately starts releasing insulin to counter it. The problem is that the tumors are already pumping out insulin because of the episode and the added production causes the ferret to crash.
So if you absolutely can NOT get the ferret under control and if they are going into a seizure, then rub 1 drop of Karo onto their gums.
Wait about 5 minutes and if the ferret is not better then give another small drop. Soon as the episode starts to calm down, feed them some soft food immediately. If necessary, you must force feed them. It is critical that they get food in them so the body can naturally start producing sugar.
To force feed use a syringe and gently and slowly push food in, putting the syringe just under the lip at the side of the mouth. Feed them at least 1 teaspoon but if they want more, let them have more food.
After needing to use Karo, a trip to the vet should be made.
Lastly, know when it's time to say goodbye…
After a while, the treatment won't work anymore and that's when you have to think about what's best for your ferret, especially if their quality of life is compromised. Of course it's easier to say than to do.
Thanks to this routine, Bandit has survived almost 2 years and has had a good quality of life during that time. He doesn't play as much but he does play, and is still up and about daily. When your ferret does play, be sure to give a small feeding after 30 minutes of play to help keep the b/s levels up.
Thanks to Dr. Desena and to Nona for their advice on supplements and helpful links.
~ Pat Ceriello (January 2012)
Pat is more than happy to help anyone who is having a tough time looking after their ferret which is suffering from Insulinoma.
To contact him, you can send him an email at
cc_construction76 AT yahoo DOT com
(obviously replace the words with the appropriate email symbols and remove the spaces)
and put either "Ferrets" or "Insulinoma" in the subject line so that he doesn't delete the email by accident.
---
DISCLAIMER: The information shared here is not intended to be a substitute for taking your sick ferret to a vet. It is just advice on how to look after your ferret with Insulinoma so as to give it the best quality of life once diagnosed. The treatment followed must be one advised by your ferret savvy vet.
If you have any doubts at all, please think about getting a second opinion so that you know that your pet is getting the best possible treatment available.
---