by Nikki Smiz
(NJ)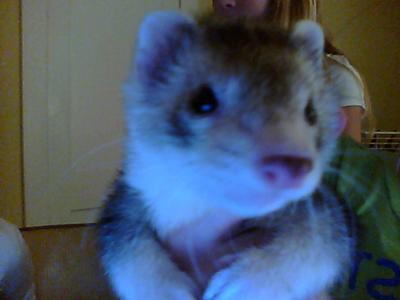 SNUGGLE PUFF
OK, so I just got a new ferret, and I've blocked most of the room with cardboard so he doesn't get stuck in couches or wires, but I feel bad because the only room that he can go in right now is my bedroom and his little room. Am I allowed to let him roam the house? Won't he get stuck?
Comments for should i let my ferret run wild in the house?
Jan 19, 2015
How do I ferret proof my apt?


I live in a one bed apt and I recently got Juan, my ferret. He's amazing and I want him to be happily roaming the apt while I'm at work. However, I'm scared to dead to come back home only to find out he's escaped. Any advice on how to ferret proof my apt? It will be greatly appreciated!
---
Feb 25, 2014
Yes your pet can run around the house


I have a two year old her name is Penny! She is the coolest thing ever! I do let her run around the house. She is litter trained in the bathroom in a corner that she seemed to pick her self. I keep her cage open all day, she goes in there when she want something to eat or drink or even if she is ready to climb in her hammock and sleep. All you have to do is take time to work with her! They are amazing pets!

---
Feb 18, 2012
bertie


Bertie our male ferret runs loose all the time it can be amazing or heart stopping as he wants to spend night time playing with my feet and toes which does bug me a little, well OK, a lot. I do wish he would learn to sleep at night same as we do.
I mean to say I can handle the kisses but when she starts to attack my feet to tell me it's play time, well what can I say !!!!!!!
---
Dec 14, 2011
Snuggle Puff


Oh your boy is one handsome fellow! Such a cutie pie 🙂

Nikki – my 5 are free roam around the house and nothing has happened to them. My husband made sure that he ferret proofed our home really way. They can't get behind the fridge (we have 3 bricks stacked up which they can't push down), there's no way behind the stove and nothing dangerous in the laundry. We've made sure they can't get up onto the window ledges to scratch at the flywire to get out. And, like the person before me said, all our guys have collars and bells so that if they are sleeping somewhere weird, I just squeak the squeaky toy and then I hear the bell as they wake up to come to me.

The only time our ferrets went walkabout is when our kids lived at home, as they weren't very aware of what was down by their feet when they &/or their friends came in and out of the house. Now that they've all moved out, no more missing ferrets! Phew! Oh, BTW, we got all our ferrets back, thank goodness 🙂

I much prefer to have free roam ferrets rather than putting them in a cage. They wander around whenever they want to and come and see me to say hi. Just love it when they do that 😀

If you're sharing your place then it might not be as easy to have Snuggle Puff roaming around the place because your roomy/ies might be as careless going in and out as our kids were.

However if you're living on your own, make sure your house is ferret proofed (imagine the unimaginable and then check and recheck again ;)), get him a collar and a bell, a squeaky toy, and enjoy having Snuggle Puff as part of the family!
---
Dec 12, 2011
Let him roam (:


You can definitely let him roam the house. Make sure you get a collar with a bell on it before you let him roam free (MUST HAVE), and make sure you still follow him around too. Not intensively, but just so if he goes somewhere not-so-good or gets stuck, you can help him. If there are any rooms that he shouldn't be in (ex: bathroom, laundry room, or some room with delicate things), just keep those doors shut. He'll be fine otherwise 🙂
---
Dec 11, 2011
Ferret's domain


You may lose him if you do that. My first ferret was allowed to run the house. He had too much room, and spend all his time gathering things. The front door was not totally shut and he opened it and ran away. It was a terrible time for us, looking for him.

I have two ferrets now, they stay in one room. They are happy with that most of the time. Of course they want to run throughout the house. Wanting is not getting though. I love them too much to lose them.
---